Story
In 1906 Wilhelm Jungermann laid the foundations for the company with the production of mass produced turned parts made of wood. The company has been run by the family since this time. Ilse Neuhaus, the granddaughter of the founder of the company, and her husband Gerhard implemented the steps to change the company completely. The product range was changed from the manufacturing of wooden parts to the steel trade. The extensive specialist knowledge and more than 20 years of experience supplied by the entrepreneur Gerhard Neuhaus formed the basis for this development. The range of products comprised everything from rust and acid resistant steel, alloy and non-alloy constructional steel, tool steel, up to high-speed steel either cold drawn and rolled.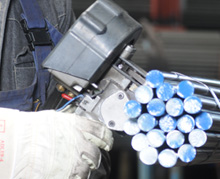 [Translate to English:] Was in kleinsten Verhältnissen in gemieteten Räumen und Hallen begann, entwickelte sich zu einem florierenden Unternehmen. Mit überzeugender Kompetenz und zuverlässigem Engagement war das Bergische Land schnell erobert. Die Nachfrage von Kunden aus Deutschland und den Nachbarländern stieg stetig.
In 1998 the time had finally arrived. Jungermann found a new home located in the industrial region of Remscheid, in Bergisch-Born. Their own company buildings and corresponding office complex provided room for more than 3500 t of steel. A European wide customer base developed owing to the competent support, reliable deliveries and the willingness to take on new challenges together with the customers. Today customers from Northern Europe, Central Europe and South America can be found among the loyal customers at Jungermann. Reiner Neuhaus works at the company since 2005 and is the fourth generation to be involved in the running of the company.